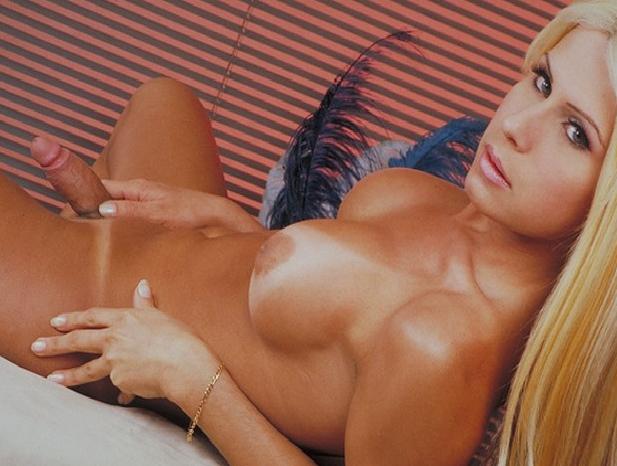 It's always the same thing. As a woman with a cock, a shemale for all intents and purposes, everywhere I go, it's always the same. The other for example, I was sitting at a bar, in Miami Beach, minding my own business when this guy came to sit next to me. Now I admit, unless you look carefully, in the relative dark surrounding of a bar, it is difficult to notice that I was in fact not born a woman! So when men chat me up sometimes, they don't really know "what" I am. All they do know is that they wouldn't mind spending some quality time with me if you know what I mean. Anyway, back to my story… The other day, this guy sat next to me and began to chat me up. I was bored, but not in a particularly flirtations mood, (a woman cannot be flirtatious all the time) so I turned towards me, my big boobs starring him in the face, took his hand and drove it down to my crouch where there is this most delicious dick, (7 inches and all) that most men would just die to have.
There was a look of "horror" in his eyes as he withdrew his hand, probably looking for a place to wash it clean, muttered a sorry and turned his fact back into his drink.
By that time, I was beginning to see the funny side of this story. So it was my turn to chat him up. Eventually he mumbled that he thought I looked sexy but that was because I looked like a woman and would never, ever sleep with a man. Never.
A little later, when I told him that he could accompany me to my apartment next door, the poor soul nearly chocked, paid his tab, and followed me home.
And let me tell you something. That cock sucker would never sleep with a man, ever, you know what is the first thing he did when we were alone? Yes… He went straight for my dick.
A nice long shemale dick, a hard dick that he had sworn he would never touch, and there he was, my bitch, sucking on my hard cock as if his life depended on it.
And when I told him to turn around, place himself on all four so that my dick could fuck his sorry ass, he did so without as much a word of complaint.
Soon after, as I was pounding him with my hard cock, he let a loud groan out as he began to come! I don't thing he ever thought he could come that hard.
And as I myself emptied myself inside of him, I told him:
"Now you have tasted a dick… You'll never want to go back…"
Later on as he left, he turned to me and said that he would do anything to let me fuck him again.
I had turned him into a cock whore…
I can do the same for you! Just call my number and ask for shemale phone sex!


Would you do anything to let this shemale fuck you?  I bet you would!