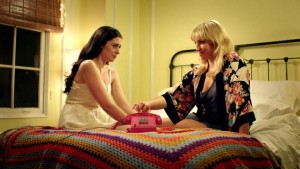 Here is something that made me smile, phone sex in a movie theater near you.  No, I am not talking about a hushed up phone conversation with your boyfriend (in the middle of a movie) about what you would like to do to him whilst everyone in the auditorium tells you to keep quiet, (or loses interest in the movie and listens to what you have to say instead)....  no what I am talking about is the next best thing:  A movie about phone sex girls made in Hollywood, with real actors, paid plenty of money, a director, ad agencies, the lot.
Starring Ari Graynor (the blond) who certainly turned my head, Justin Long turning everybody's head, this is one fun movie, that most adults with a passing interest in sex will want to see and enjoy and portrays the lives of two young women who once disliked each other but 10 years later find themselves having to share an apartment in New York in order to be able to pay the rent.
What they do to pay is rent is phone sex, and the rest is history as they say:
Watch it if you are not easily offended.  You'll come home with a smile on your face and well...  a certain need that we at phone-love.com will certainly be more than willing to help relieve!